As I showed before......I won a
DiGiorno Pizza
Party through the website
House Party
.....well yesterday was the day!! Because our family has been hit hard recently with the creeping crud (kleenex and sinus meds are still our best friends)....I really didn't plan a huge party.....instead....just invited the family in for a nice dinner while the guys watched the Ohio State game......
Go Bucks!!

Even though it was not a grand event we managed to have a really fun time chit chatting.....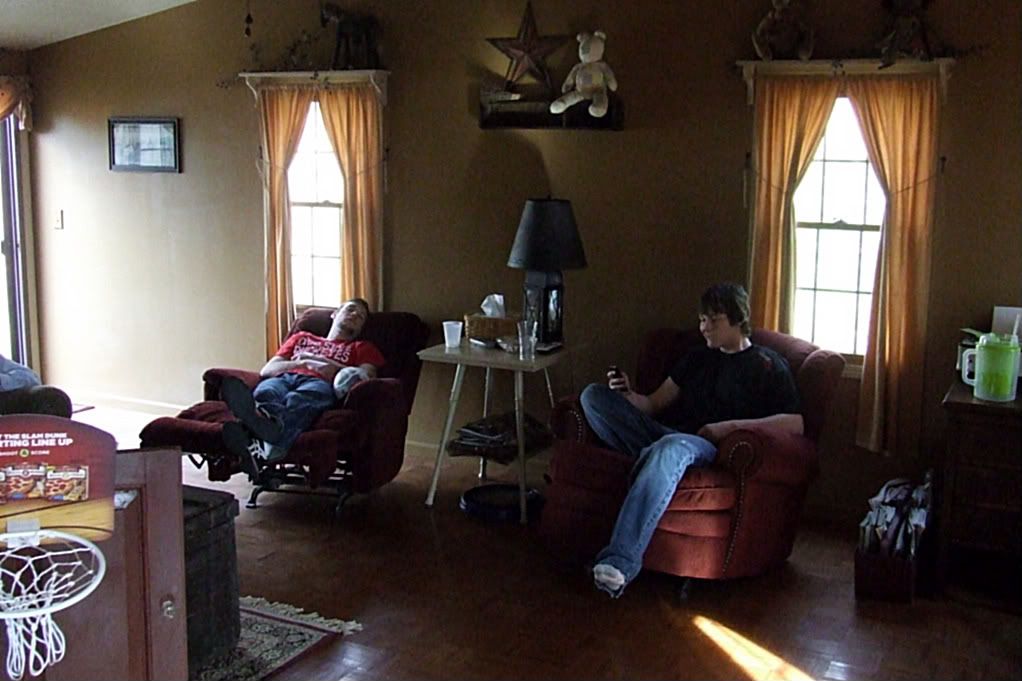 ....yea!! We are quite the party animals.....no? tee hee hee!!
BUT......I've gotta say.....the food was amazing!! DiGiorno was sooooooo generous with the goodies they sent....and the coupons!! WOW!!
We purchased to serve.....
Pepperoni Pizza w/ breadsticks....and with chicken wings....which was the favorite!! The wings (I fixed them w/out the buffalo sauce) were wonderful!! Very meaty....boneless chunks with a great flavor!!
Supreme Hand-tossed Crust......was super loaded with toppings!! Sooooo good!!
Garlic Bread Pizza.....YUMMMMMMM!!!! So different....so flavorful.....and soooo gone!!
Four Cheese Pizza.....again.....oh sooooo good!!
I'd still like to try the stuffed crust pizza......and would love to find the duo box with the pizza and cookies.....the store I shopped at didn't carry them!! :O(
I've got to say.....Digiorno really is a great product!! It was super easy to prepare.....very quick.....and really wonderful tasting!! I paid $6.44 per pizza which is really a cheap meal....even when you add a salad you've got a great quick complete meal that everyone just gabbles up!! I normally haven't thought of keeping frozen pizzas in the freezer.....but will now for quick lunches or when Brady comes home with an army of hungry friends.....in just 20 minutes....I'll be super mom to the bunch!! :O)
So there you go......I highly recommend visiting
House Party
and trying for one of their many parties!! You won't be sorry!! :O)
Have a great afternoon!!
Stacey